ARD Outdoor specializes in outdoor patio furniture in the Toronto area. Our 13, 000 square foot showroom in Toronto showcases the best in patio furniture and outdoor living. Our outdoor patio furniture designers and consultants are ready to help you design your dream outdoor space. Thanks to ARD sales staff and owner for the execellent service. I love my patio. by Yellow Bobolink
October 28, 2016
My order exceeded my expectations.
I have been so pleased not only the quality of furniture, but also with the quality of the service provided. Everything was done quickly, efficiently and perfectly to my liking.
I'm so pleased.
Natashia G. by Michelle Capobi
June 22, 2016
Thank you soooo much for all your help in choosing and for you Great staff that made that best over the phone sale for my conversation set! Late last season we purchased a Regal Sectional Patio Set from ARD Outdoor. We were extremely happy with the style, comfort and quality of the unit which was a perfect fit for the patio in our modest back garden. My wife and I love spending time relaxing there in the summer months with our friends. One of the challenges of a curved patio set, however, is finding suitable covers. So this year, following email communications with very helpful ARD staff, we ordered a one-piece, custom-designed, cover from ARD. Unfortunately, when we took delivery of the cover, there had clearly been a mix-up somewhere along the way with the dimensions, the cover was a very poor fit and we were obviously disappointed. However, what differentiates an outstanding company from an OK company is not only the quality of the products they offer, but also the quality of the customer service they provide, particularly when things don't go quite as expected. And here, ARD Outdoor excelled, in immediately addressing our concerns in a highly professional and efficient manner, including a personal note from ARD's principal, Richard Bockner. In a short period of time, we took delivery of a second cover that fits perfectly, is constructed from high quality, lightweight material and exceeded all of our expectations. Thank you ARD for your quality products and quality customer service.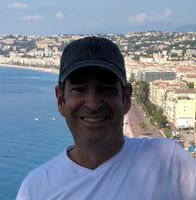 by Rick Silver
April 7, 2015
We recently purchased several pieces of patio furniture from ARD Outdoor. We met them at the home show and and then went to their new showroom on dufferin. We bought a dining table and sofa set, chair and table. Everything was delivered yesterday and we could not be happier.

Thanks!